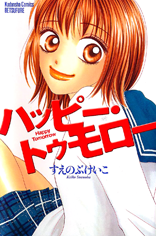 Associated Names
ハッピー・トゥモロー
Genre
Drama Romance School Life Shoujo
Author(s)
SUENOBU Keiko
Status in Country of Origin
1 Volume (Complete)
Description
Contains four short, sweet stories by Suenobu Keiko.
- Happy Tomorrow:
Kunieda, who recently entered SMP High School, was immediately antagonized by her classmates. She was bullied by them everyday. Trash was piled on her desk, and her pencil case was filled with thumbtacks. Kunieda even has to eat lunch in the girls' bathroom to avoid being harassed. Among the classmates who didn't bully or mock her, there is a guy who cares a lot about her. He helps her through the crisis, as well as invites her to eat at his usual table.
- Doki-Doki
- Wish on the Stars
- To Hold Your Hand


DOWNLOAD
Volume 01